The product of a green heart
Sustainable, of course!
Making the world greener, both literally and figuratively, is in our blood. We're always looking for ways to make our business more sustainable at every level. We take good care of our plants, our people, and the world around us. Follow the steps we take in this context.
Certification
Sustainability
Our story
We are proud to announce we have achieved the MSP GAP and MPS SQ certification!
MPS certificate
MPS is a monitoring tool which helps companies make the right moves to reduce their environmental impact. The aim is to improve the sustainability of the floriculture sector. We use MPS to register our consumption of fertilisers, plant protection products, and energy. This allows us to measure how sustainably we're producing at any given point in time, and gain insight into how we can further increase sustainability.
MPS-GAP
MPS-GAP is an entry certificate that allows deliveries to be made to international retailers. With this certificate, we comply with requirements in areas such as trace-ability, environment, crop protection products, and recall procedures.
MPS-SQ
With the MPS-Socially Qualified (SQ) certificate, we demonstrate that our company meets the national and international requirements in the field of health and safety. Especially now that international supermarket chains are increasingly focusing on both the social aspects and the environmental requirements of our business.
Business developments in terms of sustainability.
Recycled pots
We've been using grey pots made from 100% recycled post-consumer plastic since 2019. Thanks to their grey colour, they can always be reused, unlike black pots. This is because waste sorting systems cannot recognise black pots, because the conveyor belts on which they're transported are also black.
Sustainable relationships
We don't focus on the short term, but invest in sustainable relationships with our staff, customers and suppliers by listening to their specific wishes and going the extra mile. A pleasant working atmosphere is important to us, and something we're willing to invest in.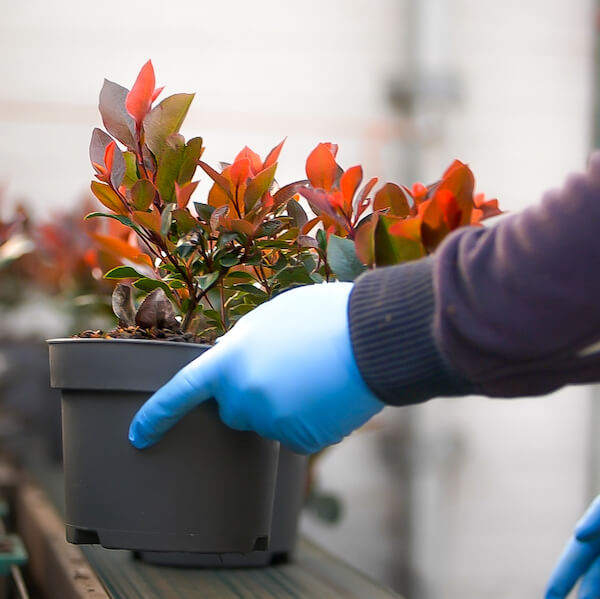 Bees
We use bees to pollinate our Skimmias, so expect to find 4 or 5 beehives in our greenhouses in the spring.
Biological pest control
We've been using biological pest control since 2010 where possible to combat diseases and pests. For example, we use predatory mites and nematodes in the greenhouses, which eat harmful soil larvae. These predatory mites also control harmful spider mites in Skimmias.
Water recycling
We collect the rainwater that falls on our greenhouses and fields and use it to spray our plants in the greenhouses and outdoor fields. We've also been collecting and reusing excess irrigation water since the 1990s to prevent fertilisers and plant protection products from ending up in surface water.