Our nursery
Our family business was founded in 1983. We now grow more than 750,000 plants annually for the wholesale trade, intermediaries and retailers, both inside and outside the Netherlands. You can find us in Molenschot in Brabant, where we have 4 hectares of greenhouses for cultivation, 3 hectares of fields for cultivation, and a colourful showroom where we would be delighted to welcome you.
Our range:

Skimmias and more!
At least half of our plants are Skimmias. Cultivating this showpiece, available in different varieties, requires feeling and expertise. Even so, they're easy for consumers to maintain, just like the popular ornamental shrubs Viburnum, Leucothoe and Pieris. Our range doesn't end there though; we have a wide and varied selection of garden plants available for you, as well as the latest trends, because we monitor the market closely and respond innovatively to changes.
Our method: quality first
We're proud that we carry out every step of the production process in-house. With the help of our green fingers, small cuttings grow into mature plants with abundant flowers. We also organise distribution ourselves. This allows us to guarantee the quality we promise. We inspect every plant, one by one, with every delivery. Plants are only sold if they meet all the criteria. We work according to a standardised quality management system of the highest standard, because we're only satisfied if we can supply you with the very best plants.
Sustainable
We're a green company in every aspect. Doing business sustainably is second nature to us. We care about our plants, the people around us, and our planet. We're always on the lookout for improvements in this area, and we cherish our international MPS-A standard.
Service
Good service is at the top of our list. You can count on us, simply because we do what we say, and we're always prepared to go the extra mile for you. Contact us for all your needs.
If you wish, we can price the plants and label them for transport. All you have to do is place an order, and we take care of the rest. Our very own one-stop-shop.
Making the world greener together. Literally and figuratively.
We're a leading garden plant supplier striving to take the lead in an increasingly green world. We work hard, both with our environment and for our environment. We demand the best from ourselves and the people around us, and we continue to reinforce our network and make it more sustainable. All this puts us in a position to grow the most comprehensive, high-quality and sustainable range of garden plants, with the Skimmia our showpiece.
Expertise
We use every ounce of our knowledge, experience, and willingness to learn to grow the very best plants.
Engagement
We care about our plants, the people around us, and our planet.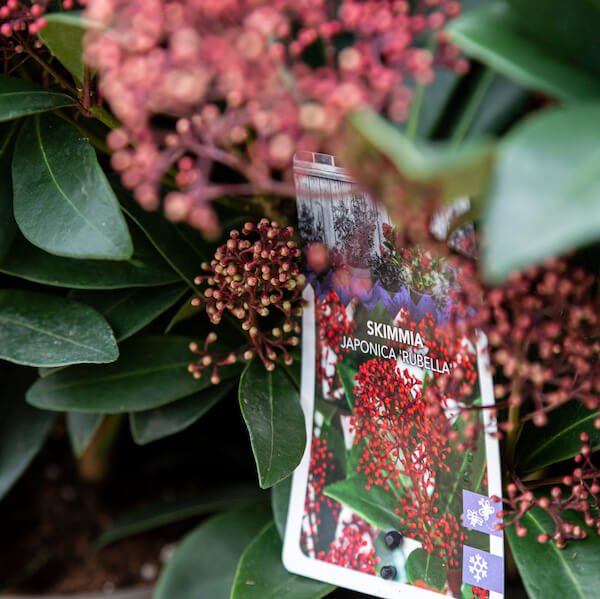 Trust
Our customers can rely on the very best quality and service.
Your personal data will be processed in accordance with the GDPR and our privacy policy. By submitting the form, you agree to receive our newsletter and also agree with our privacy policy.